Villa Project in Kaliasem, North Bali
Two Luxurious modern style new to be built villa project on a beautiful location in Kaliasem, Lovina, North Bali. On a very distinctive location. A few minutes to the centre of Lovina Beach, where you can find Pepito's Supermarket, Bars and Restaurants. From this newly build high tech villa, which is of an exceptional design, you will have fantastic open views of the sea. Large plot with open green country and hills views.
Contact us about this villa project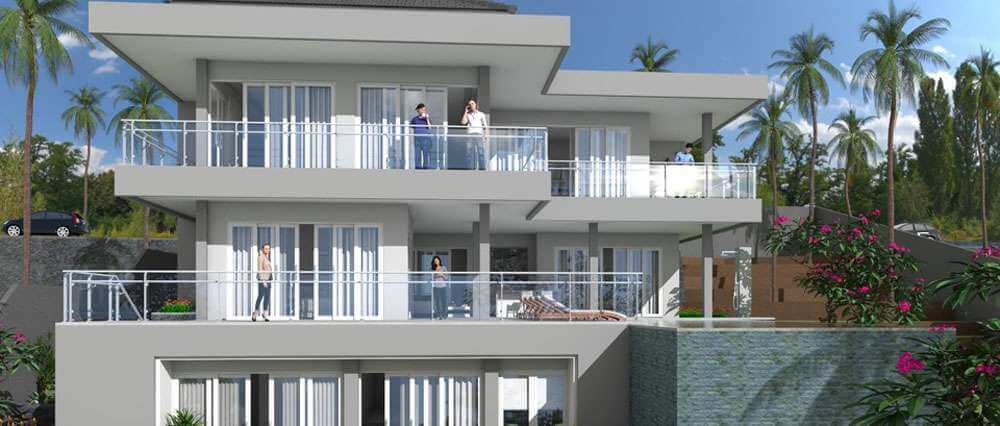 Villa details:
Lower Level (Guest room) (65.56 m2): 1 bedroom with ensuite bathroom, wardrobe, an open plan kitchen, Living Room, and the stairs is outside to going up to the second floor and the pool.
Middle Level (162m2): 2 bedrooms with ensuite bathrooms with outdoors shower, wardrobes, spacious terraces, Lounge, Bars, Sundeck and swimming pool
Upper Level (182.80m2): A spacious bedroom with ensuite bathroom with outdoor shower, wardrobes, guest toilet, open plan kitchen, dinning area, living room, storage room and balcony.
Excluding Kitchen hardware, decoration and furniture.
Completed build price starting from EUR 467.000,-
Offered as Freehold/Leasehold.
For enquiries fill out this form
BPI (PT Bali Paradise Investments / Palm Living) is active in Bali for more then 25 years. Over the years we have been involved with many real estate projects and have built many, many villas in this area. Look around, and do not hesitate to ask us any questions about real estate in North Bali, rentals, building or owning your own piece of real estate in paradise. Happy and Safe Holidays!